Wedding traditions are sentimental, meaningful, and heartfelt. Traditions can be about your family history or just something that personally speaks to your style. However, I have been witnessing a change in wedding traditions. Couples' are making their own traditions, which can add lovely personal touches to the wedding day. I have noticed a big shift in the last 5 years of wedding couples' leaving time-honored traditions behind while infusing their own personality into the day. Below are some fun trends that I have seen couples' include in their wedding day, or just forego some traditions completely. All of the below examples are simple touches that you can adopt very easily to make your day unique and special for you both.
Get Ready Together.
You can get ready together!! I have noticed that some of my couples' are choosing to book a great hotel suite together and help each other get ready, rather than having the bridesmaids in one room or location and the grooms in another. From a photography standpoint, this works great for us since we don't have to worry about traveling to two separate locations and the couple is in one room together, which makes for some fabulous candid shots! In the beginning of my wedding photography career, a few couples' who already have children opted to get ready together so they could be with their kids. Now, I am seeing more and more couples' deciding to not only see each other before the wedding, but to actually participate in each other's preparation.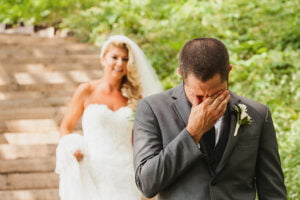 Have A First Look.
As I have written before, I love first looks! First looks allow for beautiful, quiet moments between the bride and the groom and give your photographer more time to spend taking much needed couple pictures. This is especially true when there is only one hour or less between your ceremony end time and cocktail hour. Usually, taking couple pictures, wedding party and family formals within one hour is extremely stressful on all parties. A first look gives you time to relax, have fun and your photographer has enough time to take some momentous pictures!
Walk Down The Aisle With Your Fiancé.
This new tradition goes along to the first one of seeing each other before the ceremony.  Now, if you are getting married in a religious venue, the officiant may not allow for this very time-honored tradition. But, for any non-religious venue, walking down the aisle together before you get married can get pretty emotional for both the bride and the groom. And I have to say, it's really a beautiful sight to see the couple walk arm-in-arm down the aisle together, ready to get married. For brides' who want to honor their father, you can do this easily by having your dad read a poem scripture or family-honored passage during the ceremony.
Wear Some Color!
You really don't have to wear white! More and more, my brides' are opting for a wedding dress in black, blush, pink or any other color that you love. Again, from a photography perspective, we love color! The more color, the better. Some of my brides' are not even shopping at bridal stores anymore opting to buy their short or cocktail-style dresses at boutiques rather than a huge bridal store. And even a few decide to buy a customized dress made by an expert tailor. Depending on the dress style and materials, sometimes a tailor-made dress is actually the same cost as a dress purchased at a popular bridal store. Again, whatever your personal dress style, you have so many options available right now to make your dress all about you.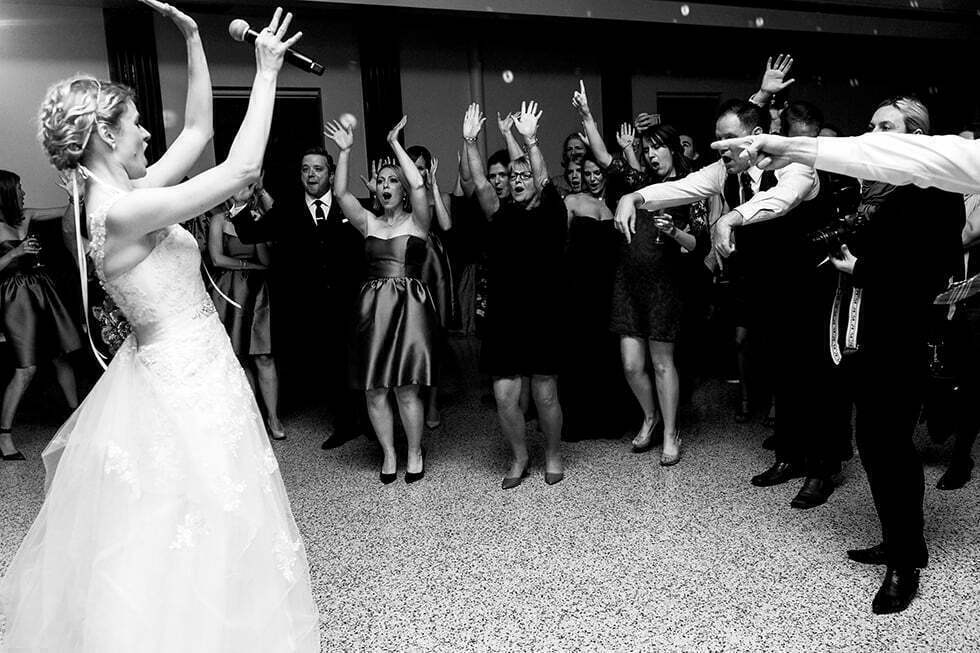 Nix Bouquet and Garter Events.
In all honesty, I have seen more and more of my couples' decide to not even include a bouquet and garter toss anymore. Last year, I had about 20% of my couples' include this tradition. Now, my couples' just want to dance and have fun at their reception without any traditional events towards the end of the night. Also, if the dance floor is hopping, breaking up the great vibe for the event gets people not participating, a reason to leave or to take a long break. And getting the dance floor grooving again, takes some time. In reality, I have seen a great reception with and without a bouquet and garter, so it's really up to you to include this tradition and whether it goes along with your personality or theme.
To see more of my rainy wedding pictures, hop on my Instagram account @dawnephoto!