You look at the latest weather report on your wedding day and the forecast shows 100% chance of rain, for the entire day. Panic sets in as you have scheduled over two hours for couple and wedding party pictures at your favorite spots in your beloved town. This scenario happens every year for at least 3 or 4 of my weddings! When it does happen, I always tell my couples' not to worry too much. Rain during your wedding day is really not all that terrible and actually produces some amazing light for pictures. However, if there is a torrential downpour, severe weather or a cold, windy rain then it's definitely time to find some indoor spots. The following are a few suggestions to make the most of your rainy wedding day, while grabbing some memorable and scenic images.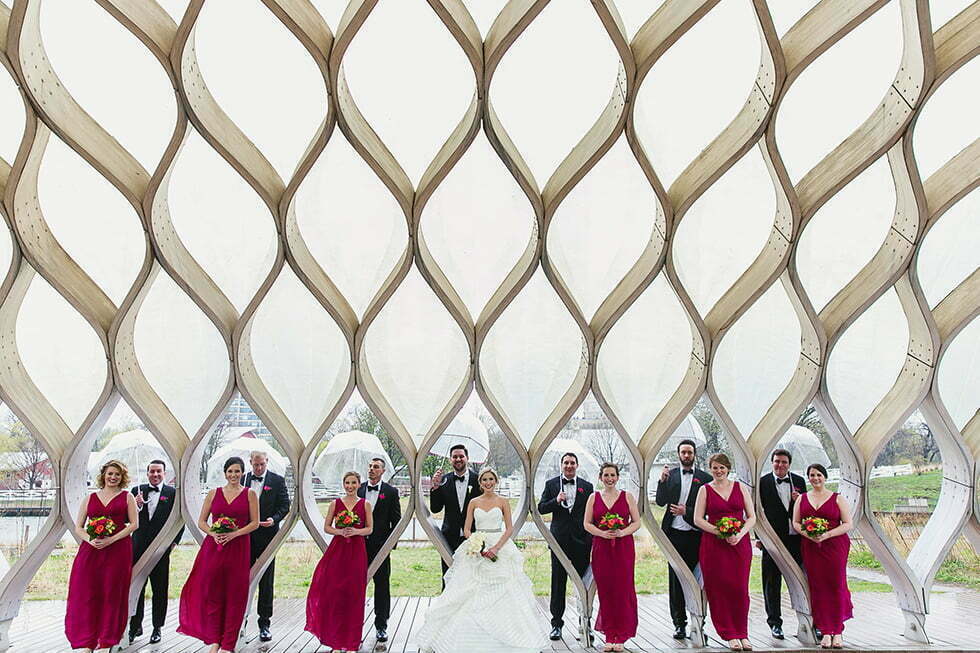 Make A Rain Contingency Plan With Your Photographer
A couple of days before each wedding, I am checking the weather to see if a rain plan has to be scheduled. If there is at least 30% chance of rain, I make sure to contact my couples' to alert them to the chance that we might have to deal with rain during the wedding day. If the rain is light and misting during the day, I love to take my couples' out for pictures because usually the light is really beautiful during a cloudy and slightly rainy day. And pictures look super-cute with everyone wearing rain boots and carrying umbrellas. Just in case of severe weather or if the rain is heavy, I do make a rain contingency plan with my couples' to visit some nearby indoor locations. Here in Chicago there are great locations for rain including park sculptures, bars, restaurants, antique warehouses, conservatories, boat -houses and hotels. Make sure to have a meeting with your photographer before the wedding to see what indoor locations he/she suggests so you can make the best out of your photo time together.
Research Alternative Locations
If your photographer does provide you with some indoor or covered locations, you might actually want to visit these locations ahead of time. You can also find out if any of the locations need permits or special permissions to photograph. Your photographer should have a good idea of permits that are required in the popular locations within your area. However, if there is a private, remote venue or location that you want to take pictures, it's always a good idea to see if you need to buy a permit. There have been times where the couple and myself have ventured into a place without buying a permit, just to shoot for a few minutes. The results have been mixed! In one case we were able to take pictures with no problems, and the other case we were kicked out with a stern warning. My suggestion is to buy a permit especially if you really love the location and there is a good chance of bad weather on your wedding day. Then, you don't have to worry about whether or not you can shoot in a great location.
Have Good Transportation
Securing good transportation for the wedding day is incredibly important, especially during a rainy day. If the transportation falls through, then you have to rely on cabs, Uber or friends transporting you around. And during a rainy day here in Chicago, cabs and Uber cars are difficult to grab. You also want to make sure your transportation vehicle has adequate room to hold everyone, including your photographers so that if bad weather happens, everyone has shelter. Many times, I have had to wait-out a bad storm inside a bus or trolley. Having a vehicle that has space and heat allows for everyone to relax a bit and wait for the rain to pass and makes all the difference in the world!
Prepared To Get A Little Wet And A Little Dirty
Whenever you go around your city or town for couple and wedding party pictures, your dress is going to get a little dirty and you inevitably will get a little wet. A little dirt or rain should not hurt your dress and usually, you can easily remove any dirt stains. Just make sure to bring along an emergency kit to clean up your dress if you are doing pictures before the ceremony. In all my 10 years of shooting weddings, we have had only a few times where we had to clean the dress a little before the ceremony or reception. As any photographer will tell you, the light is beautiful during a rainstorm, and especially afterwards. Please know that the pictures you get in the end, will be well worth it!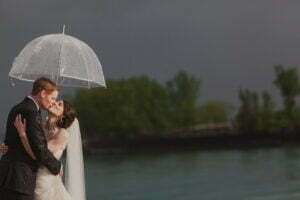 To see more of my rainy wedding pictures, hop on my Instagram account @dawnephoto!