Sparkle, Shimmer and Glitter! Want to wow your guests? Glam is not just crystals, mirrors & rhinestones anymore.  Incorporate one of the hottest wedding themes-METALLICS- in all aspects of your wedding and have an event to remember.  We have researched and found places for you to get shiny accents into your wedding, whether it be embellishments on your wedding gown, decorating accessories, favors and invitations or just be inspired.  Have a look >>>
GOLD THEME-Go bright and flashy all on its own or tone it down with a blush pink combination. Check out these inspirational Blush and Gold Wedding Theme photos from Wedding Paper Divas and then find your own unique combinations.

RELATED POST from the Wedding Sparkler Store: "Using Sparklers at Your Wedding"
SILVER/PEWTER THEME-Timeless and classic, pairs beautifully with a crisp white or pearl tones. Or integrated with different shades of grey.  Have a look at photos of Silver Inspired Wedding Theme Ideas from Wedding Paper Divas.

Rescue Flats are the perfect complement to your wedding celebration.
Artfully designed, lovingly crafted ballet flats in a beautiful display box that says both "Thank you for coming" and "Let's dance!" Available in pink-champagne-silver-gold-slate-lavender-black

COPPER THEME-Up and coming new wedding colour (bright and sassy!) that pairs nicely with green if your going for a Woodland or Greenery theme wedding. Get inspired with these gorgeous photos of a Copper & Greenery Wedding Color Palette from Wedding Paper Divas.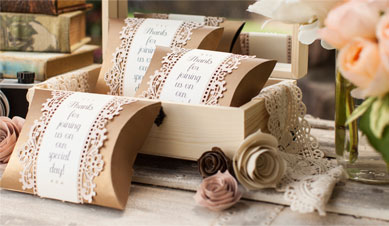 Make everything for the perfect event, including decor, cake toppers, invitations, and more. Make what you want with over 100 different materials including vellum, pearl paper, glitter iron-on and vinyl. Use our Cricut Design Space™ software on your computer, tablet, or smartphone. Let your Cricut machine do all the cutting, writing, and scoring, and then assemble your project!
ROSE GOLD THEME-Hottest trending colour right now.  Were you lucky enough to receive your engagement ring in rose gold?  Use that as a jumping off point to centre your whole wedding around. Have a look at these Mint & Metallic Wedding Theme pictures from Wedding Paper Divas.  It's just one of many pastel colours that co-ordinate nicely with rose gold.
-We have an advertising relationship with the stores we link to in this post-